Chairman's Speech: 28th Annual General Body Meeting
28th Annual General Body Meeting on 29th June 2002
Gentlemen,
We all know that the world has seen far more than the usual changes since I last had the privilege of your company at our 2001 Annual General Body Meeting.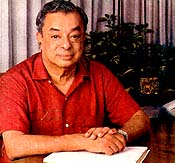 Communal frenzy has produced an indelible blot on the spirit of non-violence and tolerance in the land of the Mahatma. Terror struck at the heart of democracy and global businesses on September 11 and December 13. These events have had a widespread effect on geo-politics and business. I am therefore proud that during these harrowing times, your farmer-owned institution has not wavered from the path that you have charted. We have moved ahead, undaunted, improving and enhancing the lives of the millions of poor farmers through cooperation, doing our best to soothe troubled waters.
In our journey through the troubled times, we have drawn strength from the values that form the core of cooperative philosophy: that human beings, working together with mutual trust and respect, can improve their own lives, their villages and their nation. All the artificial distinctions of religion, language, caste and gender dissolve when we recognize one fundamental fact: we are all basically the same -- human beings, born to cooperate and coexist. Though momentary madness may cause us to avert our eyes from this truth, we cannot change the fact that we all have risen from the same dust, are all are nurtured by the same milk, and we shall all return to the same dust. The dust and milk do not ask whether we are Hindu, Muslim or Christian.
Gentlemen, it is not enough to hope or even pray that sanity may ultimately prevail in our communally and politically fractured state and world. It is not enough that we are proud to be workers in a cooperative movement that allows no distinction of nationality, religion, caste or community. It is not enough that the cooperative movement has brought about unparalleled improvement in the quality of life of our society: both rural and urban. We cannot satisfy ourselves that through their dairy cooperatives our rural masses-the silent majority that development had by and large bypassed-have seen hope in life through increased incomes and an enriched cultural life. It is not enough that our movement has also touched our urban masses by ensuring the availability of a wide range of fresh and 'value for money' dairy products that go towards fulfilling their nutritional requirements.
While we may justifiably take pride in having built the largest food product business in the country, there is no time to rest upon our laurels. An environment where the madness of hatred destroys lives and livelihoods is an environment that poses a threat to our very existence and to all that we have achieved. We must draw on the strength of our values to extend cooperation and the cooperative ethos to all. We must help our fellow man to understand that the resort to cooperation is a far more effective way to improve lives than the resort of violence can ever be. We must - each of us and all of us - work to submerge our differences by increasing the good available to all. The environment in which we work is a perilous one. We must, together, ensure that the forces that threaten to undermine our efforts are destroyed - not by violence or hatred, but by cooperation. In this battle, we are committed to struggle and to succeed.
I take some pride in telling you that our efforts to protect and advance our members' interests are bearing fruit. This year there was a real possibility that the Budget would reduce the basic import duty on butter oil from 35 to 30 percent. You all are aware of the disastrous effects that such a policy would have precipitated. Financed by huge European Union and US producer and export subsidies, butter and ghee would have become available in India at rock bottom prices. Happily, the Prime Minister understood our arguments and the import duty on butter oil has been restored to 40 percent.
But there are other challenges facing us. We must face these with all our resources, not wavering from our path. In this fight our strongest ally are principles that underlie our success: combining the values and spirit of cooperation with professional management in what is truly a farmers' organisation. This is the only path that builds value for both the farmer and the consumer by eliminating the middleman who seeks rents, but adds little or no value. This is the essence of Marketing-which your Federation is dedicated to.
I now present to you your Federation's Annual Report and Audited Accounts for the year 2001-2002.
Milk Procurement
The total milk procurement by our Member Unions reached an average of 47.32 lakh kilogram per day, as compared to 45.76 lac Kilograms per day, a 3.4 percent increase over 1999-2000. Peak procurement touched a high of 62.00 lac kilograms in a day.
Sales
During the year, your Federation's sales registered a growth of 3.4 percent to reach Rs. 2,336.48 crores including consignment sales of Rs. 295.92 crore. In addition your Federation coordinated Rs. 34.28 crores in product sales to the Defence services. Dairy products turnover registered a growth of over three per cent over the previous year. This year, Amul ice cream achieved record sales, with Rupee turnover growing by 20 per cent. Sale of Amul Milk in pouches increased by five percent in value terms. UHT Milk has grown in value terms by 87 percent, which is a very encouraging market response. Amul and Sagar brand pure ghee sales increased by 14 per cent over the previous year. Despite intense competition and a market recession, sales of Amul Butter and milk powders remained steady. The sales value of the Amul Cheese range increased by 14 per cent. This is particularly pleasing as it demonstrates our ability to resist MNC competition. Amul Chocolates sales value grew by 14 percent. New products like Paneer, Mithaimate sweetened condensed milk and fresh curd demonstrated their potential to become dominant brands in the coming few years.
Dhara Oil
In the year 2001-02, the turnover of Dhara grew by 6% in spite of stiff competition from competitors' low priced oils. This is testimony to the strength of the Dhara brand: consumer loyalty based on quality. However, the level of competition in the branded oil market has intensified, especially in the refined sunflower oil segment with rival brands operating lucrative consumer and trade schemes. In the coming year, the Dhara portfolio will be enhanced with the addition of variants that cater to emerging consumer segments. We are confident that in spite of competition, consumers will continue to retain their loyalty to pure, high quality Dhara.
Distribution
Last year, the Federation amalgamated its distribution networks to increase operational efficiency and improve the quality of handling and storage. Today, we have access to over 2,600 distributors and over 5 lakh retail outlets. As many as 550 of our distributors have superior quality cold rooms in their premises to ensure proper storage of our products. Today the Federation owns state-of-the-art cold rooms at five of its sales offices with fast expansion under way. Our Amul Yatra Programme ensures that every new distributor visits Anand before commencing business, thereby imbibing an appreciation of Federation philosophy and culture as well as operational systems and processes. All new distributor's salesmen are trained in the Federation's philosophy and methods as well as in selling skills.
Exports
I am happy to inform that for the second consecutive year your Federation's export turnover has shown growth of nearly 100%. During the year, we have been able to consolidate our position in the consumer pack segment as well as demonstrate growth in the exports of bulk-packed milk powders in the Persian Gulf, Africa and Bangladesh markets. For the 8th consecutive year, we have received the APEDA Award for Excellence in Exports.
In reviewing our export performance, it is important to recognize that our export prices are determined by the producer and export subsidies offered by the EU and US governments. Their recent increases in subsidies has severely affected our price realisation in the international market. We have appealed to our Government to present our case at the WTO and also raise tariff barriers, within the WTO norms, to protect the domestic market from the inflow of subsidized dairy products from the western world.
We are proud that our products -- marketed as 'the Taste of India' - continue to receive a positive consumer response in all major international markets. Several leading dairies have reposed their trust in our products for use as ingredients. This reflects the consistently high standards maintained by our dairy plants.
Total Quality Management
GCMMF embraced the Total Quality Management philosophy not only to introduce Change Management culture, but to improve product and service quality.
Since 1994, your Federation has been initiating a sequence of quality management practices. Recognizing our achievements in this area, the GCMMF was a joint winner of the Rajiv Gandhi National Quality Award in the 'Best of All' Category. It is a tribute to the Federation employees' unrelenting efforts to achieve the highest standards of quality. Your employees have recorded approximately 26,800 Kaizens (small improvements) in their individual work areas during the year. Continuous efforts in achieving excellence in housekeeping at Federation Offices, warehouses and at distributor points have been undertaken.
GCMMF has also extended Quality Management practices to its production units, member dairies and channel associates. The success of this effort is evidenced by the Rajiv Gandhi National Quality Award 2000 Commendation Certificate earned by the Mother Dairy, Gandhinagar for its achievements in Quality Improvement, Total Waste Elimination, Statistical Quality Control and Small Group Activities.
Nearly 200 Amul Quality Circles have been created for your Federation's Wholesale Dealers across the country who meet every month to discuss and improve upon the distribution initiatives of Federation. Similarly, over the last six years your Federation has successfully conducted biannual policy deployment, or Hoshin Kanri workshops for all its departmental heads and branch managers to share our vision, mission and goals and to develop and review action plans.
To improve the performance of its Executive and Managers, your Federation has also undertaken a Competency Building project. Generic Competency Assessment of top managers of GCMMF has been carried out. Mentored by their superiors, managers initiate personal development plans to enhance their skills in key areas.
Information Technology Integration
Your Federation is extending its Enterprise-wide Integrated Application System (EIAS) by making it Web enabled. When this is completed it will further improve supply chain management and customer management. Your Federation has been honoured for its IT excellence by the award of Top CIO 2001 Awards in the areas of Supply Chain Management and Customer Management.
In order to bridge the digital divide, there is an initiative to create a Top Level Domain (TLD) for Co-operatives. We believe that by developing "Amul.coop" umbrella brand web portal, we are in a position to communicate with all our members and millions of consumers across the world. This will give us vital business advantage and facilitate Amul brand penetration across the world.
Information Technology Revolution at Village Level
Since the Federation was founded, Member Unions have introduced modern technologies at the village level in order to optimize milk collection efficiency and extend milk production enhancement services. This has included such innovations as installation of wireless sets in villages for rapid communication access to Veterinary Health Assistance and switching to electronic milk testers to ensure efficient testing and measurement of milk constituents of.
Starting five years ago, our VDCS have also taken the lead in adoption of computerized "Automatic Milk Collection System". This has helped to ensure immediate preparation of milk payment bills, transparency of operations and greater efficiency of milk collection. Almost 4,000 of our VDCS already have installed these computers. We now plan to equip almost 8,000 of our VDCS with these computers by 2003-04. We are also exploring possibilities of integration of these village-level computers with our mainframe through network connectivity, creating an interactive system for two-way flow of information between your Federation, Unions, Cooperatives and their owner members.
Cooperative Development Programme
During the last two years, our Member Unions have implemented an Internal Consultant Development (ICD) intervention. This programme addresses the need for growth of dairy business of Primary members and Dairy Co-operative Societies.
During the year, Member Unions developed a module on Vision-Mission-Strategy (VMS) for Village Dairy Cooperative Societies and milk producers. The VMS module has strengthened the sense of self-leadership in the milk producer members and their representatives at village level, prompting them to initiate activities in their villages, which will have important long-term effects on the milk business.
Since last year, Member Unions have initiated new programmes under Cooperative Development with the objective of introducing professional management to the Milk Producer and VDCS. A Members' Business Development Programme has been developed and implemented which demonstrates the impact of various decisions and actions on the economics of milk production and profitability of running of a dairy business.
As a part of the Breeding Services Improvement Programme, Member Unions have continued implementation of the second module of Improvement in Artificial Insemination.
Our Member Unions continued to encourage increased participation of women milk producers in cooperative dairying by organising Women Leadership Development Programmes for women milk producers, building their skills and leadership qualities.
What the Future Holds
The so-called policy of liberalization and our Government's rush to meet WTO norms without modernizing archaic cooperative laws can only play havoc with the fates of millions of poor and marginal farmers who are balanced precariously on the brink of existence. The dairy sector has been a source of sustenance for this silent and deprived majority. These are among those who will be hardest hit if things go the way the powers-that-be want them to go.
For years now, the country's cooperatives have suffered under restrictive laws and regulations. We are happy that the Government has acknowledged the need to amend the cooperative laws. The recent amendment of the Multi-State Cooperative Societies Act, 2002 is a step in the right direction. We also keenly await the amendment to the Companies Act, 1956 which allows Producer Companies to exist and operate.
At 21 percent, the contribution of income from dairying to the total agricultural income is the highest from all commodities. It now seems that our efforts to ensure the best possible return to the dairy farmer are going to be crucified for their success. We entered into the GATT agreement under the belief that liberalisaton of the economy, lowering of tariff barriers and subsidies by developing countries would be matched by the developed countries. But this has not happened as most developed nations have maintained their high tariff rates and subsidies. The European Union's export subsidy for butter is currently over 120 percent of the EU market value. The European Union is far from meeting its obligations under the Marrakesh agreement as regards reduction of export subsidies. The U.S.- Dairy Export Incentive Programme (DEIP) has extended export subsidies to non-fat dry milk and butter fat. The new US Farm Bill seeks to give more protection to the US farmers. All these violate the basic spirit of free trade envisaged under the WTO.
Though the Government has accepted our reasonable arguments on the import duty for butter, we must be vigilant lest any increase is given effect before 2004-05-till when the bound rate of duty on butter oil under WTO is 40 percent. Further, there is an urgent need to impose a countervailing antidumping duty of 75 percent on milk products. Your Federation, along with the National Cooperative Dairy Federation of India shall go all out to ensure that this is done, because it is essential if we are to ensure survival of the domestic dairy industry. Our stand is all the more justified when farm subsidies in the west are touching new highs.
On another front, the amendment to the Milk and Milk Product Order (M&MPO) may aim at fetching better prices to the farmer through fresh investment in processing capacities, but actually risks harming the farmers' interests. It ignores the fact that a plethora of processing capacity based on peak season supply does not ensure year-round utilization of created capacities. Milk processing capacities need to be created not merely on peak milk procurement basis but on the basis of reasonable growth. Crowding of capacity neither lends itself to encouraging the milk producer to produce more, nor to optimal utilisation of processing capacity.
The Milk and Milk product (Amendment) Order, 2002 incorporates new and strict norms related to collection, transportation and processing of milk and quality of milk products. We welcome Government's initiative to improve food quality and safety. We also welcome the decision to bring processors of less than 10,000 LPD into the ambit of safety and quality laws. At the same time, we must express our reservations because the new norms do not apply to imported dairy products. This is particularly important with respect to the new requirement that we declare on every product pack whether it is 100 percent vegetarian. Everybody knows about our ingredients and we can confidently meet the new specifications. But the same cannot be said about dairy products imported from lands where bone meal and offal are ingredients in cattle feed. Unless imported dairy commodities are subject to the same quality and labeling requirements as domestic product, these new regulations have every potential of undermining our efforts to ensure quality. We therefore urge Government to amend the Order to ensure that imported dairy products are subject to the same rules. This would ensure universal consumer safety and a level playing field for all.
It should be recognized that India is a market that is growing as incomes and purchasing power increase. Consumption habits are changing hand-in-hand with socio-economic change. As remote areas open up with new roads and rail connections, the extent of markets for our products is even further expanded. If we are to remain a dominant player, we must gear up to meet the challenges of catering to these new markets.
One of your Federation's initiatives has been moving up the value chain. Our Member Unions add value by transporting, chilling and processing milk into many products that the market demands. Your Federation adds value by marketing these products and by ensuring they reach the retailer who is in direct contact with our customer. Thus, we are all players in what is called the 'value chain'. Today's pressing need is to reach as close to the customer as possible. To this end, our operations have to be extended right up to the consumers' doorsteps. Happily, this is in total accordance with our guiding philosophy- eliminate intermediaries between the farmer and the consumer. We have entered this brave new world of 'customer delight' through our foray into retailing and e-business.
We envisage opening retail outlets in all India's major towns and cities. These outlets will bring the entire Amul range of branded dairy products under one roof. In addition to these outlets, we are opening fast food restaurants serving "utterly delicious pizza", Amul ice cream and other Amul products. Families can now look forward to having access to quality food in pleasant environments. Today, your customer may directly order her requirements from us through the click of a computer mouse. All these initiatives bring us ever closer to our valued customers.
In all that we do, and will do, we must never forget that we face an increasingly competitive environment. In this environment, we have to survive and grow on the bases of our greatest strengths: cooperative culture, cooperative networking, marketing acumen and respect for both the producer and the consumer.
On the marketing front, we must remain customer-driven and responsive to the changes in business environment. Our human resources must be multi-skilled and adept at multi-tasking. Their all round efficiencies need to be reflected in two areas: first, our cost of operation has to be optimized; second, every employee of your Federation has to gear oneself to our ultimate aim-customer delight.
We need to give our professionals elbowroom to maneuver within your guiding principles and policies, so that the survival and growth of our cooperative institutions is ensured. These institutions champion a good and just cause. The future of millions of marginalized farmers depends upon them. These institutions must survive and prosper, because so must their farmer-owners. The future of India as a good, wise and just nation depends on them.
Acknowledgments
Before closing, I would like to thank all those who have helped to make your Federation's operations successful.
We are thankful to the National Co-operative Dairy Federation of India for their support during the year. The National Dairy Development Board has played a shining role in our growth and development, in more ways than can be expressed. We thank them.
The Institute of Rural Management, Anand, as always, has contributed to the perspective building and professionalisation of the management of the co-operative sector. We express deep gratitude for their support.
Our advertising agencies, bankers, insurers, management consultants, suppliers and transport contractors have been of great help to us in managing our growth and are partners in our success. We acknowledge their contributions and commit ourselves to continue and strengthen this fruitful alliance in the times to come.
We depend on the efficiency of our distributors, retailers and most important of all, the patronage of our consumers, who have come to regard our brands as synonymous with quality and value. While thanking them for their support, we assure them that we shall strive endlessly to delight them.
Our Member Unions are our strength. We thank them for their guidance, support and co-operation without which we would not exist.
The Government of India and the Government of Gujarat have continued to offer support and encouragement, for which we are grateful.
Lastly, we thank the officers and staff of your Federation for their continued perseverance, loyalty and unflinching efforts devoted to our cause.
Thank you.
For and on Behalf of Board of Directors
V. Kurien
Chairman