Chairman's Speech: 26th Annual Report 1999-2000
Report of the Board of Directors adopted at their meeting held on 8 th June, 2000 for presentation at the 26th Annual General Body Meeting to be held on 27 th June, 2000.
Madam and Gentlemen,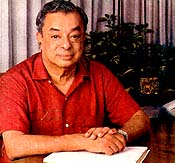 For a milk farmer, whose life and livelihood is in our rural hinterland, Amul is, Amul does! For her, Amul is a symbol of many things - her lifeblood and her lifeline, his revered milch animal and his pail of milk, her milk pass book and her dairy co-operative society, his belief in a farmers' organization and its transparent way of life, her aims and aspirations, his prosperity and contentment, her family's well being and her self-realization, his children's past and their present, his hopes and expectations from the future and her tryst with destiny.
This is the crux of the Amul brand and stems from the support and ownership by over two million milk producers of Gujarat, most of whom live the life of a small or marginal farmer, faced with the daily challenges of a simple life. In Amul, and by entrusting the task of managing their brand to professionals, these farmers have improved the quality of their lives and have raised their aims and aspirations, and those they hold for their children.
For the Consumer, Amul simply means 'Value For Money' and Quality as it should be. Our brand name touches an emotional chord with her: Amul means a range of superior products, consumed by every age group, and a favourite in every part of our diverse land. Amul makes each bite that much more special because in our humble way, we care for feelings that are truly "Indian".
For us, at Amul, our name is a source of pride in an outstanding Indian Brand; a name that we know brings joy to the faces of our farmer owners. Amul symbolises our farmers' determination to manage their own resources. Amul has shown that it can not only manage sustained growth but can face all challengers -- including the MNC brands in its arena - from whatever quarter. We have done this for the last five decades. For us, it is our belief in our own abilities: If we think we can, then we will.
Let us reflect on Amul's strengths that have taken us so far:
We are in the business of development; not just Marketing. Development, be it of products, people or processes. The spirit of development can be seen and felt in everything that we do. Marketing is simply our tool to achieve our ultimate objective - Human Development.
We are focused on delighting our customer by developing new products to meet her expectations and delivering the best quality products at lowest possible prices, that she expects. This unflagging commitment to the consumer explains our marketing successes:
The year has seen many examples of our commitment to our owners and to the consumer:
The successful national roll-out of Amul Ice Cream - the truly Indian "Real Milk Real Ice Cream."
Our efforts to extend farmer benefit while expanding our marketing reach through common branding and co-operative networking have continued with the Salem Dairy being the latest to sign an agreement for the manufacture of long life UHT Milk. An agreement with Akluj Dairy is the next in line, for supply of milk. Already, Amul Ice Cream is manufactured by seven cooperatives, including four locations outside Gujarat: the Karnataka Milk Federation, Patna Dairy Project and Mother Dairy Delhi, to name a few. Discussions are underway with several other Co-operative Federations as part of our strategy to ensure that Amul Ice Cream delights consumers and adds value to producers' milk throughout India. Amul Ice Cream's price leadership has ensured that quality branded ice cream, remains affordable, so that Ice Creams are no longer seen as a luxury meant only for the rich.
Launch of new Cheese varieties
Amul Emmental Cheese has brought a real Swiss taste to cheese that is made in India. This excellence in cheese making has been joined by the new Amul Pizza Cheese. Adding to the popular Amul Processed Cheeses has helped Amul to solidify our market leadership, despite aggressive competing brands.
A range of new products
Amul Malai Paneer, long shelf-life Amul Taaza UHT milk, the recently-launched "Ready-to-eat" Amul Masti Dahi (Curd), Amul Mithaee Gulabjamun, Amul Gulabjamun Mix all demonstrate the application of innovative technology in commercial manufacturing and national marketing of traditional Indian products. These products satisfy our consumers' taste while ensuring Amul quality, hygiene and, most important, value-added for our milk producers.
I am pleased to draw your special attention to the very encouraging consumer response to Amul Mithai Mate Sweetened Condensed Milk, which has wrested a substantial market share from a well-established MNC brand.
Mother Dairy, Gandhinagar: The Mother Dairy is the solution in our strategy to eliminate the uncertainties of cyclical fluctuations, so common in our country's milk production. Our goal is to collect every last drop of milk that our farmers want to pour, at a remunerative price. We are committed to giving our farmer owners a fair price for their produce and to protecting them from nature's vagaries. Our aim, as a Co-operative enterprise, is to return the maximum possible to our farmers, but without exploiting the consumer. It is our aim that whether in times of plenty and scarcity, neither the producer, nor the consumer, will go home, empty handed.
In order to overcome future flush season limitations in the processing capacities of our individual member unions, your Federation, took up the MOTHER DAIRY" to create a state-wide feeder balancing dairy. We take pride in it: as India's most modern dairy, it sets the standard for excellence in processing.
Packaging Film Project, Gandhinagar
Pouches are the most popular, convenient and accepted packaging for marketing of liquid milk. The Packaging Film Project (PFP) was established to give a competitive edge to the Co-operative Dairy, by ensuring access to the best quality food grade packaging pouch film, for high speed pouch filling machines, that operate at speeds 75 per cent higher than at present.
The PFP plant has achieved full capacity utilization and we expect to double the capacity in the coming year. Productivity has been enhanced by minimizing setup time, by sharp reduction in pouch leakage, by better preventive maintenance, all achieved by solid teamwork.
Total Quality Management: For the last five years, we at GCMMF, our twelve member dairies, their 10,000 village cooperative societies and our 3,500 dealers have pursued excellence through "Total Quality Management". This has radically improved our approach to change, essential in our rapidly changing market environment. A unique feature of our TQM Approach is our process of policy deployment known as Hoshin Kanri. This involves strategy formulation and implementation, involving every member of the value chain. We are equally proud of the "Amul Quality Circle" involving our dealers across the country that provide us a dynamic forum for change management in markets.
I now present to you, your Federation's Annual Report and the Audited Accounts for the year 1999-2000.
Review of Operations
Milk Procurement
This year, our Member Unions increased their milk procurement by 7.9 percent, achieving an average of 44.68 lac kilograms per day as compared to 41.42 lac kilograms per day in 1998-99. Peak procurement during 1999-2000, touched a high of 57.13 lac kilograms in a day.
Sales
During the year, your Federation's sales remained steady at Rs.2218.52 crore including consignment sales of Rs. 315.83 crore. In addition, your Federation co-ordinated Rs. 28.8 crore in product sales to the Defence services. Dairy Products turnover registered a growth of 5.1 per cent over the previous year.
This year, Amul Butter registered record sales, with Rupee turnover growing by 12.3 percent. The sales value of Amulya has registered impressive growth with an increase of 14.5 percent. Sale of Amul Milk in Gujarat has increased by a spectacular 20.8 percent in value terms. Over the past year, Amul Cheese sales value has increased by 10.5 percent. We substantially increased sales value of Amul Mithai Mate by 33.6 percent, testimony to our commitment to quality.
Export
We have received the Government of India's APEDA award for excellence in exports of dairy products. During the year our products made a debut in Singapore, Philippines, Saudi Arabia and Tanzania, receiving a very encouraging consumer response.
Dhara Oil
During the year, although Dhara's turnover in value terms has gone down affecting the overall turnover of your Federation, Dhara sales volume has virtually reached the previous year's level. The continued good response to Dhara packed oil reflects consumer confidence in a volatile market. Dhara remains the undisputed market leader among branded consumer packed oils. This would not have been possible without our strong consumer franchise and Dhara's brand equity.
Unrestricted OGL imports of edible oils have severely eroded the fundamentals of our country's oilseeds and edible oils economy. We do hope our Government will recognize the interests of our oilseeds growers, most of whom are small and marginal dry-land farmers. One crucial step would help restore the health of the oilseeds and edible oil sector: raising the edible oil import duty from the current levels of about 20 to 40 per cent to levels that offset farmer and processor subsidies elsewhere. This would make indigenous oil command a reasonable price thereby ensuring better returns to the farmers. In the longer term, policies and programmes that create incentives for modernisation of our oilseed processing industry should ensure that we achieve and sustain self-reliance.
Distribution Network
Your Federation's distribution network has been strengthened during the year. GCMMF's total number of Wholesale Dealers now stands at 3,500 extending our reach to more than 5 lac retailers. All our Wholesale Dealers have computerized operations with e-mail connectivity for greater speed and faster response time. As impressive as these statistics are, they don't tell the most important part of the story: it is the staunch support, brand loyalty and commitment of our Wholesale Dealers and Retailers, that makes it possible for our products to reach consumers in the remotest parts of our country. All our Wholesale Dealers have successfully completed the Amul Yatra by visiting Anand and seeing for themselves, the service we provide to our farmer brethren.
Co-Operative Development Programme
Our Co-operative Development Programme aims at building greater member understanding and loyalty, orienting our farmer-owners to their roles, rights and responsibilities while promoting the highest level of member participation in their co-operative. During the past seven years, our Member Unions have taken the member education programme to 6,405 village dairy co-operative societies, reaching 6,34,080 women and 5,43,362 men milk producers.
I am glad to inform you that during 1999-2000, as planned, our Member Unions continued to increase the participation of women milk producers in the dairy co-operative societies. During the last four years, our Member Unions have organised 55 women's leadership development programmes and trained 1,227 women milk producers, building their skills and leadership qualities. During the year, the benefits of the Co-operative Development Programme, were extended to 1,267 village dairy co-operative societies with 1,01,584 women, 78,662 men and 10,657 DCS Management Committee Members participating. We must never forget that just as the future of your Federation rests on our unions, the strength of every union depends on each dairy co-operative society becoming and remaining a vibrant, growing local enterprise, important to its members and its community.
Progress of Dairy Co-Operative Organisations
During the year, your Member Unions continued their infrastructure investments. They upgraded and strengthened the dairy co-operative structure by adding new village dairy co-operative societies: the number of DCSs increased from 10,364 to 10,411 during the year. Membership grew from 20.84 to 21.18 lacs, an increase of 1.7 percent. The total milk processing capacity of the Member Unions now stands at 60.70 LLPD.
Member Unions have reoriented field officers to work as Consultants, assisting DCS managements to run their businesses efficiently, helping them to become self-reliant, self-sustaining organisations. These Consultants, working with and through DCS staff, will accelerate efforts to help village milk producers to and improve their animal husbandry practices and milk business. Member Unions have successfully launched the Village Self-Leadership Development Training module with encouraging results.
Till March 2000, we have covered 4,989 villages under the Village Awareness Programme and imparted training to 4,431 core groups at village level - formed for implementation of the initiative at village level - for first module of Cleanliness of Dairy Co-operative Society.
The 'E-Comm' Road Ahead
People, today, talk of e-commerce as a tool of the future. The Internet, they say, will change everything - the freedom of choice, the way markets function, the nature of work, the meaning of leisure, the empowerment of Consumers. The Information Implosion rapidly expands the choices available to the consumers. Past objectives will be shaped by future solutions. The quickest, as also the best interaction, will take place in Cyberspace. All these activities are geared towards matching and satisfying the perceived as well as latent needs of consumers, through the effective use of information technology. In this Information-Communication-Entertainment Age, the barriers between the business organization and consumers, between manufacturers and end-users are all breaking down. This is what we started some fifty years ago: eliminating the 'middlemen' thereby bringing the 'producer' closer to the 'consumer'.
Your Federation has been one of the first organizations in India to embrace the e-revolution. And, with satisfying success, as well. Amul is India's first food brand to have a dedicated website -- www.amul.com. Today, we operate India's first national cyberstore, functioning in some 120 cities, and an Amul Cyberstore Gifting Service capable of serving consumers in more than 220 of our cities, on specific occasions. This has been made possible by our creating an IT network, which links our production, centers with sales offices and dealers by VSAT and e-mail connectivity. Our website has brought us closer to our customers, improving interactivity, brand salience and the shopping basket experience. In fact, we at Amul are consciously targeting 'Generation@' like never before. Notable firsts among our web-achievements are:
March, 1996: Among the first Indian corporates on the net
September, 1998: Launch of Amul Cricket Rankings
March, 1999: Launch of Amul Cyberstore in the US
June, 1999: Launch of Amul Cyberstore - India
September, 1999: Launch of Amulmail.com
October, 1999: Launch of Amul Gift Hamper Service - India
Today, we have what the netpreneurs refer to as the 'first mover advantage' in the net business. Net Brands will matter. Net Brands will persevere. Net Brands will be a key and growing niche. Net Brands will have an interactive personality. Net Brands will deliver results. And, Net Brands will be savvy. Like their Marketers. How you do, what you do will be the acid test of fulfillment of Consumer expectations. Of critical importance will be the exercise of Logistics - that delivers not just the Brand but the Brand Promise, as well. Channel Conflict will be replaced by Channel Synergy, as the web channel gets linked to conventional channels. When E-tailing becomes supplementary to Re-tailing, by closing in on one transaction - Selling. By offering the Consumer the benefits of becoming an 'E-Consumer' and consequently, an 'M-Consumer'. The day is not far when every farmer, in each village society, will walk in with his Smart Card. This movement of co-operatives from Co-ops to e-Co-ops will make co-operatives that much more stronger by bringing members together and closer to customers like never before.
Impressive as this may sound, we must never forget the basics that have built AMUL: First, we work for farmers. Two, we believe in Co-operation and the added benefits that come from being part of a team. Three, we can and must always be the best in whatever we do. Four, we must back relentless innovation with the willingness to put in good solid hard work. Five, we must recruit, support and retain people who will contribute their best in whatever they do, no matter how small or how great the task might be. And finally, we must always face adversity with courage, knowing that every challenge is really an opportunity.
Acknowledgements
Before closing, I would like to thank all those who have helped to make our Federation's operations successful.
We are thankful to the National Co-operative Dairy Federation of India for their support during the year.
The National Dairy Development Board, with its Operation Flood Programme, has played a shining role in our growth and development, in more ways than one. We thank them.
The Institute of Rural Management, Anand, as always, has contributed to the manpower development of the co-operative sector. We express deep gratitude for their support.
Our advertising agencies, bankers, insurers, management consultants, suppliers and transport contractors have been of great help to us in managing our growth and are partners in our success. We acknowledge their contributions and hope this fruitful alliance will continue and strengthen in the times to come.
We depend on the efficiency of our distributors, retailers and most important of all the patronage of our consumers, who have come to regard our brands as synonymous with quality and value. While thanking them for their support, we assure them that we shall strive endlessly to delight them.
Our Member Unions are our strength. We thank their elected leaders and officers for their guidance, support and co-operation.
The Government of India and the Government of Gujarat have continued to offer support and encouragement, for which we are grateful.
Lastly, we thank the officers and staff of your Federation for their continued perseverance, loyalty and unflinching efforts devoted to our cause.
Thank you.
For and on Behalf of Board of Directors
V. Kurien
Chairman