Chairman's Speech: 25th Annual Report 1998-99
Report of the Board of Directors adopted at their meeting held on 1st June 1999 for presentation at the 25th Annual General Body Meeting to be held on 17th June 1999.
Madam and Gentlemen,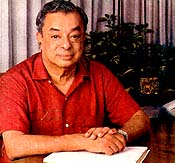 The seeds of your Gujarat Co-operative Milk Marketing Federation were sown in November 1973 with the simple intention of ensuring a fair return to the producers. The intention was to receive all the milk offered by them. The intention was to help Member Unions develop adequate production and processing facilities. The intention was to process all the milk received. The intention was to develop a product-mix that would promote sustained growth. The intention was to offer consumers quality products at fair prices, and to do so by achieving economies of scale and costs. The intention was to create and expand a milk grid to maximise the availability of liquid milk. The intention was that Milk Co-operatives would play an ever increasing role in the rural economy, providing gainful employment to large numbers of producers. The intention was to raise producer awareness that they could manage their own affairs through Co-operatives that they controlled. The intention was to create a structure, owned by farmers, that would, with time, be the farmers' best friend. The intention was to establish a marketing and distribution system that would reach every corner of the country with your products. And the intention was that the highest levels of consumer confidence would be reposed in the brands called Amul and Sagar.
Slowly but surely, like a sapling, your Federation grew in the rich soil of cooperation, its unique strength. Our leaders, our managers and our employees worked together, shared a common discipline and contributed to the decisions that have brought us to where we are. Mutual trust and confidence were the firm foundation on which we grew.
The marketing of milk and milk products began from April 1, 1974. In August 1976, your Federation began the supply of liquid milk to the Mother Dairy, Delhi, -- insulated rail tankers, carrying fresh milk over a distance of 1,000 kms, an important step in establishing a National Milk Grid.
When products with common brand names are manufactured at more than one location, a shared commitment to quality standards is essential. Your Federation adopted standards and specifications that conform to the most stringent standards the world over. And your Member Unions showed that these could be met.
This sapling - our Federation -- grew rapidly. Milk collections grew, turnovers soared and surplus, which is invested in building our future, increased. Amul Cheese Spread and Amul Shrikhand were introduced in 1983 with all new flavours. Amulya, a dairy whitener, made its appearance in 1986 and emerged as the leading brand in the segment. Dhara, launched in August 1988, quickly captured the market as a pure, wholesome edible oil marketed at a fair price. In 1996, the country got Amul Mithai Mate along with the million litre-per-day capacity Gandhinagar Mother Dairy, even as Amul Lite, a low-fat, low-cholesterol spread entered the calorie conscious market. A completely new product, Amul Ice Cream, also made its debut in 1996. Its success is now part of India's marketing folklore. Amul Butter, Amul Ghee, Amul Cheese, Amulspray, Amulya, Amul Milk Powder and Sagar Skimmed Milk Powder all achieved and sustained brand leader status in their respective categories. All this while, at the grass roots, Operation Flood III extended and strengthened our co-operative base.
It was in the 1990s that your Federation reminded the nation of our roots with a new advertising campaign: "Amul - The Taste of India". The campaign is the common thread in all our product campaigns, enhancing our brand name and image in India and abroad.
Amul Pizza Cheese (Mozzarella), Amul Cheese Slice, Amul Cheese Powder, Amul Malai Paneer, Amul Mithaee Gulab Jamun, Amul Buttermilk, Dhara Health, Safal Mango Drink, Safal Tomato Ketchup, Safal Mixed Fruit Jam all have moved from the drawing board to the shop shelves and rapidly on to family dining tables, all in the span of one short year!
Today, twenty-five years after we planted our sapling, much that we set out to achieve is a reality. Our marketing successes - recognised as outstanding achievements in Independent India -- have been achieved by a co-operative. This has come as a surprise to many in our country. But, however fulfilling our journey may have been, we must never forget one thing - we work for the farmers and our future is indelibly linked to theirs. The producer was, is and will be the reason we exist.
I now present to you, your Federation's Annual Report and the Audited Accounts for the year 1998-99.
Review Of Operations
Milk Procurement
This year, our Member Unions increased their milk procurement by 4.5 percent, achieving an average of 41.42 lac kilograms per day as compared to 39.65 lac kilograms per day in 1997-98. Peak procurement during 1998-99, touched a high of 51.88 lac kilograms in a day.
Sales
During the year, your Federation's sales increased by 18 percent from Rs.1,883.58 crore to Rs.2,219.23 crore, including consignment sales of Rs.407.93 crore. Dairy product turnover registered a robust growth of 20 percent. In addition, your Federation co-ordinated Rs. 24.1 crore in product sales to the Defence services.
This year, Amul Butter registered record sales, with Rupee turnover growing by 15 percent. The sales value of Amulya has registered impressive growth with an increase of 12 percent. Sale of Amul Milk in Gujarat has increased by 21 percent in value terms. Amul Cheese sales value has increased by a spectacular 15 percent over the previous year. Despite a decline in the milk powder market due to adequate availability of liquid milk in most parts of the country, we substantially increased sales value by 18 percent, a testimony to its quality.
Export
For the 5th consecutive year, we have received the Government of India's APEDA award as the nation's largest exporter of dairy products. During the year, Amul Butter, Ghee, Shrikhand and Gulabjamuns were launched in the USA. Our products also made a debut in New Zealand, Singapore, Thailand and Iraq, during the year, and received a very encouraging consumer response.
Dhara Oil
During the year under review, Dhara sales value has increased by more than 13 percent demonstrating the consumer confidence in a volatile market situation. Dhara remains the undisputed market leader among all consumer-packed edible oils. This would not have been possible without our strong consumer franchise and Dhara's brand equity, among all oil brands in the country.
Distribution Network
Your Federation's distribution network has been strengthened with the addition of 1,007 more Wholesale Dealers, during the year. GCMMF's total number of Wholesale Dealers now stands at 3,700 extending our reach to more than 5 lac retailers. These statistics, impressive as they are, do not tell the most important part of the story: the staunch support, brand loyalty and commitment of our Wholesale Dealers and Retailers, that makes it possible for our products to reach consumers in the remotest parts of our country.
Co-Operative Development Programme
Our Co-operative Development Programme aims at building greater member understanding and loyalty, orienting our farmer-owners to their role, rights and responsibilities while promoting the highest level of member participation in their co-operative. During the past six years, our Member Unions have taken the member education programme to 5,138 village dairy co-operative societies, reaching 4,64,700 men and 5,32,496 women milk producers.
I am glad to inform you that during 1998-99, as planned, our Member Unions continued to increase the participation of women milk producers in the dairy co-operative societies. Our Member Unions have organised 35 women's leadership development programmes and trained 794 women milk producers, during the past three years. The benefits under the Co-operative Development Programme, during the year, were extended to 1,227 village dairy co-operative societies with 84,586 men, 1,09,601women and 9,905 Members of Management Committee of DCSs participating. We must not forget that just as the future of your Federation rests on your unions, your strength depends on each dairy co-operative society becoming and remaining a vibrant, growing local enterprise, important to its members and its community.
Progress Of Dairy Co-Operative Organisations
During the year, your Member Unions continued their infrastructure investments. They upgraded and strengthened the dairy co-operative structure by adding new village dairy co-operative societies: the number of DCSs increased from 10,183 to 10,364 during the year. Membership grew from 19.51 to 20.83 lacs, an increase of 6.8 percent. The total milk processing capacity of the Member Unions now stands at 60 LLPD.
The Road Ahead
Today, co-operatives are a force to be reckoned with. We laud the co-operatives that have succeeded. And we recognise that these are the co-operatives that have ably and courageously defended their birthright - AUTONOMY. Autonomy is more than a word; it is the right of co-operatives to do what they believe they must do for their members. Sugar co-operatives, employee thrift co-operatives, urban co-operative banks and, of course, some of our own dairy co-operatives have succeeded not because of some mythical protection, but because they kept the needs of their members uppermost. If they have been successful, it is because they have served their members with honesty, integrity and perseverance. This dedication to a cause is the envy of many a corporate that tries to purchase loyalty with fancy advertising and other gimmicks.
Co-operatives are grounded in the values of self-help, self-responsibility, democracy, equality, equity and solidarity. We believe in our Principles -- not because they are there, in our bye-laws, but, because, they are ingrained in our spirit. The unique structure, that we have created, is largely a result of the first principle - that of Voluntary and Open Membership. Co-operatives do not discriminate on the basis of gender, or on the basis of social, political and religious beliefs. Democratic Member Control provides for decentralised decision-making reflected in policies by and for the member. The men and women who serve as elected representatives are accountable to the membership. The basic capital of the co-operative is Member Economic Participation. Equitable distribution of Surplus by investing in the co-operative, contributing to reserves and benefiting the members in their way of life, are all a healthy sign of the functioning of a co-operative. Autonomy and Independence are essential to the co-operative remaining faithful to its values and principles. We strengthen those values and principles by investing in Education, Training and Information, enriching our members' and the general public's understanding of the principles and techniques of co-operation. Co-operation among Co-operatives is reflected in everything we do - whether as GCMMF, its constituent unions or the co-operatives that own us. Each of us must continually seek opportunities for local, national, regional and international co-operation. Last, but not least, is Concern for Community. For what use is co-operation if there is no common good for the community.
There are few structures in which the most marginal or the weakest gets his say. This is unique to the co-operative. We know that the strength of a chain depends on its weakest link. We know that only the co-operative will put the farmer's interests first. It is only the co-operative that protects the farmer from the vagaries of nature -- as witnessed from the recent downturns, when Onion, Potato, Cotton and Sugar prices skyrocketed. Sadly it was the trader - not the farmer - who profited from this vicious exploitation of the hapless housewife.
The Freedom struggle may be over. Independence may be 50 years old now. But the struggle for the well being of the have-nots is far from over. Only when the 40 percent of our people below the poverty line rise above it, can India be truly free. Only when there are no hungry mouths to feed can we be truly free. Only when each soul born in this land has the opportunity to achieve her full potential will India have achieved real Independence. Are we prepared for this freedom struggle that lies ahead? I fear that only co-operatives are prepared to wage the real fight for Independence.
Despite our commitment, co-operatives face a very uncertain future. We still cannot say whether they will survive, bloom or wither away. We must bear it in mind, that it is co-operatives that have made dairying and, indeed, much of our agriculture, a sustainable economic activity in our country. To a large extent, an industry depends on the leaders: it is therefore essential that we commit ourselves to excellence in all that we do. This includes ensuring that the milk and milk products sold in India meet the highest standards of hygiene, sanitation and quality. As in any other country of the world, regulation is one way to move in this direction and it was to regulate the country's milk industry, that the Government of India issued the Milk and Milk Products Order (MMPO) in 1992. The objective was to regulate the production, supply and distribution of milk and milk products in order to maintain and increase the supply of good quality liquid milk to the general public.
However, regrettably, while the intention in promulgating the MMPO was exemplary, implementation has left much to be desired. As a consequence, much of the milk and milk products manufactured and sold in the country also leave much to be desired.
Co-operatives are committed to quality and will not compromise for the sake of easy money, or for the sake of higher realisation. Despite our commitment to quality and to meeting consumer demand for low margin products, co-operatives pay their taxes and the full cost of their utilities. Yet, there are those who claim that co-operatives are highly subsidised! In what way, may we ask?
For us, Quality Management means more than the details of product manufacture -- it means keeping the customer at the centre of all that we do. Quality Management, for us, means an unceasing effort to achieve quality leadership in everything that we do. For us, it is not just the gizmos of calculations within controllable limits of variations; it means setting standards by which others benchmark themselves. For us, Quality Management symbolises sincerity and trust as the basis of all our dealings. It means building in continuous learning and improvement. It means satisfying your customers better than your competitors can today and tomorrow. It means empowering your employees, so that their growth is our growth. It means encouraging people to perform the most mundane and routine activities with a focus on achieving quality. It is the shaping of people's ideas and attitudes so that they are always motivated to give their best.
As you are aware, all our Member Unions have helped producers to organise dairy co-operatives wherever there is potential. The task before us now is to transform each of these co-operatives into a self-reliant, growing business - for in the end, their growth is our growth. Just as your Federation and Union boards have become the equals of their peers in other forms of enterprise, so we must encourage managing committees to plan and direct the growth of the DCS. Just as we have built professionalism in the Unions and Federation, so too our societies must become increasingly professional in their operations. To achieve this, we would like to encourage Union field staff to become consultants, rather than supervisors; facilitators rather than decision-makers; trainers rather than doers. We are prepared to encourage this shift in roles by training field staff in institutional development, consulting and facilitation skills. We envision this field force serving as your own professional consultants for Dairy Co-operative Society management, encouraging them to plan and to undertake programmes in productivity enhancement, member education and quality assurance.
The milk producers of our Member Unions have a commitment to achieve Total Quality in six priority areas - Cleanliness of the Dairy Co-operative Societies, Planning and Budgeting of the Dairy Co-operative Society, Artificial Insemination Service, Quality Testing and Milk Measurement at Dairy Co-operative Societies, Animal Feeding and Management Practices and Self-Leadership Development.
It is hoped that this intervention will be implemented in all the Dairy Co-operative Societies of our Member Unions. The Total Quality Movement in the village is the essential first step to achieving sustained improvements in product quality, reductions in the cost of production and improvements in the efficiency and effectiveness of milk procurement.
Today people speak of Quality as a tool of appreciation. The demand for quality is on the rise the world over. The customer is silent no more. The day is not far off when quality will become a core competence. Making quality the basis of daily life, we can transform society itself. But this requires sacrifice. This means, quality has to enter the realms of our own lives before we can take it to our work tables. This means we need to think and act as Leaders. And as Leaders we share a vision -- we need to create ISO Standards not for our factories but for our own lives! There is no governing body for this; it is each one unto himself. A task that is difficult, but not impossible. It is only then that our society will get transformed. The prescription is there but are we willing to try out the remedy?
We, at AMUL have cascaded the TQM movement to our Wholesale Dealers by organising them into Quality Circles that work in tandem with our sales force. We have reason to believe that this "quality domino" works wonders. We expect our efforts to result in a structure that works relentlessly for the betterment of the entire chain -- from producer, processor, and marketer to consumer. The quality imperative is nothing short of a way of life for our farmers. But one brand does not guarantee an industry's commitment to quality. It is only when the last brand in the industry achieves what we have striven for thus far, that we can claim to be truly quality conscious. Are we then, ready, to live by quality? Or will "Quality" become just another launch, just another brand -- one that sinks without a trace? The badge of quality is there. The calling is there. The path is there. The choice is there. There is nothing to stop us. We must embrace quality because we owe it -- not to anybody or any brand -- but to ourselves and to the farmers we serve.
Our efforts to develop Indian agriculture have often faced attacks from self-styled critics. The common refrain has been that Indian agriculture lacks "comparative advantage" in this or in that. But ask "what is this comparative advantage" and there are not very many convincing explanations. Agriculture is our prime engine of growth; there is no reason why it should not remain so. But giving subsidies, on one hand, and deliberately keeping minimum support prices low, on the other, is like equivocation when your right hand takes away what your left hand provides! Agriculture cannot ignore producers and agriculture cannot ignore consumers. The Government can do its bit by taking steps that favour both the producers and consumers. The more effective approach is for Government to hand over the instruments of development to farmers themselves. Let farmers handle their own affairs. Let Government restrict itself to the policies - particularly those governing trade - that create a fertile field in which our producers can thrive.
We have traversed a path that few have dared to. We are continuing on a path that still fewer have the courage to follow. We must pursue a path that even fewer can dream to pursue. Yet, we must, because we hold in trust the aims and aspirations of millions of our countrymen. I am confident - as I know you are -- that with the nation's dairy farmers by our side we cannot fail! Let us therefore resolve that however fulfilling our first twenty-five years have been, in the next twenty-five years we will transform the lives of millions more, opening for them the door to an India that is the land of our dreams.
Acknowledgements
Before closing, I would like to thank all those who have helped to make our Federation's operations successful.
We are thankful to the National Co-operative Dairy Federation of India for their support during the year.
The National Dairy Development Board, with its Operation Flood Programme, has played a shining role in our growth and development, in more ways than one. We thank them.
The Institute of Rural Management, Anand, as always, has contributed to the manpower development of the co-operative sector. We express deep gratitude for their support.
Our advertising agencies, bankers, insurers, management consultants, suppliers and transport contractors have been of great help to us in managing our growth and are partners in our success. We acknowledge their contributions and hope this fruitful alliance will continue and strengthen in the times to come.
We depend on the efficiency of our distributors, retailers and most important of all the patronage of our consumers, who have come to regard our brands as synonymous with quality and value. While thanking them for their support, we assure them that we shall strive endlessly to delight them.
Our Member Unions have been our greatest source of strength. We thank their elected leaders and officers for their guidance, support and co-operation.
The Government of India and the Government of Gujarat have continued to offer support and encouragement, for which we are extremely grateful.
Lastly, we thank the officers and staff of your Federation for their continued perseverance, loyalty and unflinching efforts devoted to our cause.
Thank you.
For and on Behalf of Board of Directors
V. Kurien
Chairman