Chairman's Speech: 36th Annual General Body Meeting
36th Annual General Body Meeting held on 18th August, 2010
Madam and Gentlemen,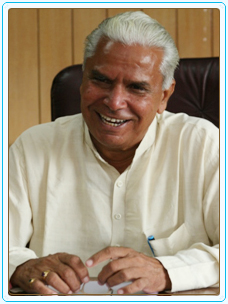 The year that passed by was challenging one, not just for the global economy as a whole but also for India and its dairy industry.
During the last year, India witnessed one of the worst monsoons in two decades leading to drop in agricultural production mainly in case of Wheat, Rice, Sugar and Pulses with its impact varying across different geographies and categories. With record buffer stock of Rice and Wheat accumulated by the Government during previous year, the nation could meet demand of Rice and Wheat from within. However in case of Sugar and Pulses, we had to resort to large-scale imports. India being one of the largest consumers of Pulses and Sugar in the World, import of these commodities resulted into record International prices and domestic prices too, shot up leading to price increases not only in these commodities but also in their substitutes and by-products. Compared to these commodities, there was relatively lower impact of draught on milk production in the country and substantial growth has also been achieved.
Due to the sound procurement and distribution network as well as immaculate planning, in Gujarat we were able to wither the draught and also achieve 6.68% growth in milk procurement. We could foresee the impact of below normal monsoon in August 2009 itself and started planning to maintain milk production, procurement and inventory levels. At a time when due to lower production of cereals, fodder prices had jumped almost two-fold, we enhanced our supplies of cattle-feed to milk producers and maintained its prices below cost and were able to provide better returns to the milk producers to overcome the stress of draught. Our cooperative system stood by their members on one hand and also tried to be more cautious in keeping the consumers prices of milk and milk products at the barest minimum. Our cooperatives have therefore been successful in enhancing trust amongst its members as well as consumers during such difficult time. We are sure that with these measures and near normal monsoon during the next year, would lead to major increase in milk production as well as procurement.
The current drought can be mainly attributed to the phenomenon of world-wide climate change. Developed nations in their quest for industrialisation, have perpetrated unhealthy levels of carbon emissions in the atmosphere. Developing nations including India have also joined the league. While every nation has a right of economic development, the current carbon emissions are not desirable and must be immediately brought down in order to provide a better tomorrow to our future generations. Our dairy cooperatives have initiated various activities to tackle this challenge prominent being; Tree Plantation Programme for afforestation, installation of Bio-gas plants for curbing methane emissions, installation of solar power packs at village level, adoption of energy efficient methods for milk processing and distribution, etc.
While the previous year led to the world-wide economic recession, the year in retrospect was more of a global effort to overcome from the recession and all major economies announcing stimulus packages to provide necessary momentum to the economies. All these measures have restricted the fall in growth rates of developed nations, large-scale Government spending and cut in taxes have led to huge sovereign debts and many countries especially in Western Europe are battling to address this issue.
In case of India however, the effect of economic recession was lower due to the inherent nature of the domestic consumption led growth story of the economy. Further, the slew of stimulus measures announced by the Government has provided necessary momentum to the economy and the economy is again geared to achieve double-digit growth in the coming years.
Apart from the tax breaks provided to various Industries in form of stimulus package, the economy also got a boost from the increase in Government spending, which had a cascading effect leading to higher consumption. Further, increase in procurement prices [minimum support price for agriculture products] along with implementation of various Government schemes for rural development and loan waiver for farmers, which was introduced in the last Union Budget; have contributed to a rise in rural demand. The increase in rural purchasing power is reflected in rural growth across a number of categories.
With increasing disposable incomes in urban as well as rural areas, there has also been significant shift in the food habits with a bias towards more value-added food products. This has led to higher demand for milk and milk products. At the same time, due to draught and resultant decline in agricultural production, significant demand-supply mismatch was evident during the last year. As a result, food prices have jumped and there has been considerable increase in the prices of almost all major agricultural commodities including fruits and vegetables and even the headline food inflation touched 20% over the last year.
This has also resulted in steep price increase of all the cattle-feed ingredients such as; prices of de-oiled rice bran which constitutes 25-35% of cattle-feed have increased from Rs. 3483/MT in 2005-06 to Rs. 6380/MT in 2009-10 (83% increase), prices of molasses which constitutes 10-12% of cattle-feed have increased from Rs. 3546/MT in 2005-06 to Rs. 8448/MT in 2009-10 (138% increase), prices of Rapeseed extraction which constitutes 10-12% of cattle-feed have increased from Rs. 5141/MT in 2005-06 to Rs. 11781/MT in 2009-10 (131% increase), prices of Rice Polish which constitutes 10-12% of cattle-feed have increased from Rs. 5612/MT in 2005-06 to Rs. 9630/MT in 2009-10 (72% increase), prices of Jowar which constitutes 10-12% of cattle-feed have increased from Rs. 5918/MT in 2005-06 to Rs. 9157/MT in 2009-10 (55% increase). The price rise in these raw materials has been particularly severe in the last year with prices increasing in the range of 25-35%. This has put tremendous cost burden on the milk producers.
Further Molasses, which being a by-product of Sugar, has seen significant price increase in recent past. Apart from these high prices, Molasses attracts Excise Duty and VAT at the highest rate. Thus, total tax burden on Molasses is around 30% of its basic cost and there is no special consideration in taxes for Molasses used in manufacture of cattle-feed.
Therefore, the average price of cattle-feed charged by our dairy cooperatives has increased from Rs. 6600 per MT in April 2008 to Rs. 10000 per MT in March 2010, an increase of above 50%. However, our dairies are not charging the actual cost of manufacturing cattle-feed and are subsidizing it for the milk producer members. This has put pressure on the viability of cattle-feed plants. It is ironic that at this juncture India is exporting nutrition in large quantity in form of de-oiled cakes, which is rich in crude protein. The escalation in feed cost leads to increase in production cost of milk and contributes to inflation in the consumer prices of milk. Hence, India should discourage export of de-oiled cakes. This will boost availability of nutrition in the country.
All the above factors have led to increase in cost of production for milk and milk products. Since dairy farmers are also consumers of these agricultural commodities, such high level of food inflation affects their livelihood and they need to be compensated for the same. Therefore, your Federation has been forced to increase the prices of its products. However, the price increase affected by us is quite lower as compared to above increase in input cost.
While the Government is contemplating introduction of uniform Goods & Service Tax (GST) across the country, we would like to highlight that many dairy products like Baby Milk Food, Butter, Ghee, Cheese, Ice-cream, etc. are now-a-days products of mass consumption. Dairy cooperatives provide these products at very reasonable rates to the consumers of India. This has led to affordability for the common man to include these products in her daily consumption. However, these products are classified under the category of 12.5% VAT in the most of the States. In the interest of consumers from all sections of society, we firmly believe that if VAT rates applicable to dairy products are reduced to the minimum rate of 4%, it would increase consumer demand, boost milk products consumption and improve their health by way of better nutrition.
It has been observed that there is a general lack of recognition of cooperatives as economic institutions both amongst the policy makers and public at large. It is therefore necessary to consider the importance of a progressive and enabling legislation, which provides a level playing field for cooperatives with other corporate entities.
As per the directives of the Central Government, the Reserve Bank of India focuses on the "priority sector" for its lending as those sectors that impact large sections of the populations, the weaker sections and sectors which are employment intensive. However, when it comes to disbursement of short term and long term loans for dairy cooperatives, our activities are not treated as "priority sector" category for direct finance to agriculture. The entire finances to District Unions and State Federation of Cooperative Dairies should be treated as direct finances to farmers, covered under priority sector lending norms as these organisations have been created under three-tier Amul Pattern, for the betterment of rural farmers and are nothing but the forward integration of farmers for better price-realisation.
Similarly, the agricultural income of farmers is exempted from the purview of Income tax. Income earned from the dairy business is nothing but the part of agricultural as animal husbandry is supplementary to agriculture. However, currently, Milk Cooperatives are taxable in the highest Income Tax bracket of 30% + cess. About 15 years ago, tax on the cooperatives was always lower than the corporate rates and same difference be maintained as dairy cooperatives are primarily engaged in the activity of removal of rural poverty and economic development of farmers in the country.
Milk is the largest agriculture commodity in the country with its production estimated at 110 Million MTs during the previous year and its revenues expected to be around Rs. 2.2 lakh crores in value terms. Further, milk today touches the lives of millions of rural milk producers, especially women engaged primarily in this vocation. All across the world, governments keep buffer stocks of milk powders, butter, etc. in order to support the milk producers on one hand and to check undue price fluctuations on the other hand. These systems of buffer stock mechanism for milk products are very well established in US and European countries. In case of India too, similar systems exists for other agricultural commodities like wheat, rice, etc. A mechanism of buffer stocking of milk products is also required in India in order to provide cushion to milk producers as well as consumers.
After entering a slump during the previous year, international dairy product prices has been rising rapidly in recent months, sparking speculation about a repeat of the large price spike that took markets by surprise three years earlier. All dairy products are showing signs of strong recovery with the largest increase been displayed by butter, the price of which has doubled over the year. However, prices for both skimmed milk and whole milk powder have also increased by over 90 per cent. The economic recovery underway in major countries may be an important factor in renewed import demand. The sustainability of the rise in prices is uncertain, though contingent on the responses of the European Union and other exporting countries which hold dairy product stocks. On the domestic front however, dairy farmers now face a real squeeze from both the fronts; higher cost of production and threat of subsidised imports flooding our dairy markets. When International prices of milk commodities increased to unprecedented levels during 2007, Government banned exports of these commodities, which has later been revoked while withdrawing the export incentives provided on exports of these commodities, thus effectively closing the door on exports of milk commodities and not providing the dairy farmers an opportunity to reap higher rates. Now in order to contain high inflation of food products in the country, Government has completely removed import duty on 30000 MT milk powder and 15000 MT of Butteroil / Butter with effect from March 2010. This will jeopardise the returns of milk producers of the country while allowing developed nations to dump their excess commodities backed by heavy subsidies.
It is important to note that milk and milk products forms the largest share of expenditure on food item in a consumer basket and hence the rise in milk prices affect common man of India the most. Thus, in today's critical situation affecting every citizen of the country, Government urgently needs to act and protect dairy farmers of India by supporting them. We had represented to the Government in form of a memorandum submitted to the Hon. Prime Minister way back on 31st August, 2009. Further, dairy cooperative leaders of the country also had a meeting with the Hon. Prime Minister on 31st March, 2010 and discussed the following issues:
1. Amendment in the Cooperative Act.
2. Reduction in Income Tax on Dairy Cooperatives
3. Increase in prices of cattle-feed raw material and corrective actions required thereof.
4. VAT on all value-added Dairy products to be fixed at minimum rate of 4%.
5. Removal of VAT & Excise Duty on use of Molasses in cattle-feed.
6. Restrict imports of Skimmed Milk Powder and Butter Oil.
7. Classification of Advances to dairy co-operatives under Priority Sector Lending.
However, till date dairy cooperatives have not received any reprieve on any of the above issues.
Food security is of paramount concern for every nation. A comprehensive strategy for food and nutrition security in the country is required in order to move towards the goal of universal food security. Food security involves every individual gaining physical, economic, social and environmental access to a balanced diet. With more than 65% of the Indian population residing in rural areas and rural economy being centred on agriculture, the real impact of this year's drought is immense. While the share of agriculture in GDP of the country is reducing with each passing year, it is pertinent to note that the economic growth achieved by the country has to be inclusive. With rural folks too, sharing the fruits of this development. The three-tier Amul pattern provides the right mix of rural employment on one hand while providing nutrition to the masses on the other hand. The need is to recognise the power of this movement, which has been tested over last six decades and provide due importance for strengthening the same.
I now present to you, our Federation's Annual Report and the Audited Accounts for the year 2009-10.
MILK PROCUREMENT
Total milk procurement by our Member Unions during the year 2009-10 averaged 93.02 lakh kilograms (9.30 million kgs) per day representing a growth of 6.68% over 87.19 lakh kgs (8.7 million kgs) per day achieved during the year 2008-09. The highest procurement as usual was recorded during January, 2010 at 122.5 lakh kgs per day.
SALES
During the year, sales of our Federation registered a quantum growth of 19.3% to reach Rs. 8005.36 crores (Rs. 80 billion). Last year, our turnover was Rs. 6711.31 crores (Rs. 67.11 billion). This is an extremely impressive growth when viewed from the perspective of draught effect and resultant drop in milk procurement as well as 27.7% growth that we achieved in the year 2008-09.
Our Federation has justified its undisputed leadership in milk business by achieving sales growth in pouch milk category by more than 21% and achieving average sales volume of 38.30 LLPD (lakh litres per day). The Sales growth in value terms is 32% from existing markets only. We have achieved number one status in pouch milk sales in Delhi this year. With this achievement, Amul Milk has emerged as the largest selling brand of milk in all major metro markets of Delhi, Mumbai, Kolkata and Ahmedabad.
Our Masti Dahi sales grew at an impressive rate of 46%. Ice-cream sales registered a value growth of 22%. Amul Cheese sales increased by 20%. UHT milk also grew strongly at 14% along with Fresh Cream registering 39% growth. Our beverage sales grew by 23% and our chocolate sales also registered an encouraging growth
of 30%.
RETAILING
Our Federation has created 5000 Amul preferred outlets which exclusively sell wide range of Amul products. 2000 of these parlours have been added during the current year which speaks volumes about the quantum of scale and speed with which the expansion has been dealt with. It is unthinkable for any competitors to create such massive network of exclusive outlets. This has been possible due to strong brand equity, consumer pull and relentless efforts on part of our entire sales organisation which includes our wholesale dealers.
These parlours have not only enhanced the Amul brand visibility but also are giving an easy access to millions of discerning consumers to our unmatched range of existing products and new products which we launch on regular basis. Moreover, these parlours have increased the efficiency in distribution by reducing the distribution costs significantly. The Retailing business alone fetched a turnover of
Rs. 300 crores during the current financial year which is approximately 4% of the Federation's total turnover.
EXPORT
We have been able to maintain and strengthen our presence in consumer pack export markets. This year too we have crossed a mark of Rs. 100 crores in foreign exchange earnings. We have been able to achieve this figure for the 5th time by now.
You will be pleased to learn that during the year we have been able to expand our reach to New Zealand with exports of Paneer, Shrikhand, Butter, etc. We have also started export of our Cheese and Butter to Sri Lankan market.
Our traditional market of Middle East and Far East are doing very well especially in newer products like Paneer as well as in case of established products like ghee, butter, etc.
DISTRIBUTION NETWORK
Amul range of products continues to penetrate deeper and deeper across the country simultaneously through our four distribution highways created with specialist distributors handling ambient milk products, chilled milk products, fresh milk products and frozen products. This unique combination of managing distribution highways has always been our huge competitive advantage.
Distributors are considered to be Marketing Managers of Federation in true sense. To develop Self Leadership amongst each individual distributor, a major initiative called SLDP (Self Leadership Development Programme) has been implemented since last year.
Distributors along with their stake-holders undergo a Vision Mission Strategy (VMS) workshop at their level which would eventually integrate each of them in the process of organisation's strategic planning and enable them to manage their own business efficiently by meeting the challenges of competitive environment. In the process, Distributor prepares his Mission statement and business plan for next few years.
To get exposure to our network of cooperative Institutions, we organise Amul Yatra for our channel partners. Distributors and major retailers from across the country come to Anand in Amul Yatra programme. So far more than 7700 distributors and other channel partners have visited Anand in Amul Yatra. This year too the initiative continued with inclusion of more distributors and retailers.
MISSION 2020
In the last year's report, I had shared with you our perspective plan for the year 2020 for our member unions envisaging a capital investment of Rs. 2600 crores (Rs. 26 billion) and a projected group sales turnover of Rs. 27000 crores (Rs. 270 billion). I am glad to inform you that all of our dairies have started activities to achieve the planned targets. It may be noted that Kaira Union has commissioned a state-of-the-art Paneer Plant and also a whey drying plant. Our Sabarkantha Union too is in process of commissioning a similar Paneer Plant. Our Mehsana Union has expanded capacity to 9.61 lakh litres per day at its dairy at Manesar near Delhi. Banaskantha Union too has embarked on installing new powder plant and cattle-feed plant which shall be commissioned soon. New cattle-feed plants are being put up by Mehsana and Valsad Unions as well.
SUSTAINABLE ECOLOGICAL DEVELOPMENT 'GREEN AMUL GREEN INDIA' CAMPAIGN
Dairy farming like agriculture is dependent on nature. It draws resource from the nature and needs nature's support for its growth and development. Generally agriculture and dairying go hand in hand and are mutually beneficial activities in India. Over the years, due to intensive agriculture and deforestation, various natural resources have been depleted in Gujarat. We, therefore, gave a serious thought in this direction and discovered a novel idea for giving back to nature. The idea was Tree Plantation by milk producer members of Dairy Cooperatives on every Independence day.
The idea was put in to the practice first time in the year 2007. Immaculate planning was done to execute the idea of "One member One tree" plantation. On the day of plantation, after the flag hoisting ceremony, each milk producer member took an oath to plant a sapling and ensure that it grew in to a tree. The milk producers planted sapling on their own at their identified locations like their farm, near their home, on farm bunds, etc. and thus in Gujarat, they planted 18.9 lakh trees across 19 districts of Gujarat on our 60th Independence day, 15th August, 2007. This was just the beginning. Enthused by the success of the campaign, Milk Producers of Gujarat decided that every year they shall celebrate 15th August (Independence Day) as a "Go Green Revolution Day by Tree Plantation to Protect Mother Earth from Pollution, Climate Change and Global Warming". On 15th August, 2008, a more ambitious target was planned and we planted around 52.74 lakh tree saplings on "One member, Three tree" basis across 21 districts of Gujarat.
In 2009, the third year of the programme, we took up an ambitious plan to plant one crore trees on "One member, Five tree" basis and successfully planted around 84.04 lakhs tree saplings across Gujarat despite acute rain shortage.
During last three years, our members have planted more than 155.6 lakh trees and demonstrated their commitment towards preserving and contributing to improvement of the environment. For this activity, we have received Good Green Governance award from Srishti for three consecutive years during 2007, 2008 and 2009.
It is heartening to note that the International Dairy Federation has awarded the "Amul Green" movement the best environment initiative in the "sustainability category" at the 4th Global Dairy Conference held at Salzburg Congress Centre, Austria on 28th April, 2010. I would like to dedicate this award to all our milk producer members and the respective team of our committed employees in our unions since this will now inspire all milk producers across the world. I am sure all of us will continue to work harder to achieve more milestones in future.
CO-OPERATIVE DEVELOPMENT
During the year, Junagadh and Kutch Milk Unions have become nominal members of GCMMF. Along with nominal membership of Amreli and Bhavnagar Milk Unions, the Federation's reach to milk producers has been extended to 24 out of 26 districts of Gujarat.
During the last ten years, our Member Unions are implementing Internal Consultant Development (ICD) intervention for developing self leadership among member producers and thereby enabling them to manage their dairy business efficiently leading to their overall development.
During the year, Member Unions continued to implement the module on Vision Mission Strategy (VMS) for primary milk producer members and Village Dairy Cooperatives. Facilitated by specially trained consultants, 736 Village Dairy Cooperative Societies (VDCS) have conducted their Vision Mission Strategy Workshops, prepared their Mission Statements and Business Plans for next five years. Till date, 6508 VDCS have prepared their mission statement and Business plan under the initiative. During the year, 5173 VDCS have also reviewed their business plan under annual revisit of VMS and have prepared action plan for next year to propel the momentum gained through VMS. During the year three member unions namely Rajkot, Bharuch and Gandhinagar have initiated VMS programme in their VDCS. The core group have trained 145 consultants of these Unions for expanding the reach of the initiative.
In order to strengthen knowledge and skill base of young girls and women of the villages about milk production management, our Federation with technical collaboration and resources of Anand Agriculture University, has initiated "Mahila Pashupalan Talim Karyakram" for women resource persons of the member unions and during the year, 739 women resource person have been trained under this programme. For strengthening infrastructure for quality and clean milk production, our member unions have identified 4000 potential VDCS for installation of Bulk Milk Coolers (BMC) and till date, 1806 BMC have already been installed.
Continuing the cleanliness drive at village level, till March 2010, member unions have implemented cleanliness module at 9507 VDCS. To enhance the level of cleanliness this year 7735 VDCS celebrated Red Tag Day on "Gandhi Jayanti" - 2nd October and the Unions also awarded best performing VDCS.
Considering a long term vision to improve the productivity of animals and to reduce infertile animal from their milkshed; our Board decided to implement Fertility Improvement Programme (FIP) from year 2007-08. The concept of FIP is an integrated one, addressing the aspects of animal nutrition, breeding and health in a holistic manner and thereby converting a non-productive animal into productive asset.
To implement FIP, milk unions have deployed 44 FIP teams of veterinary consultants and they are working in 974 villages. During last three years, they have registered 2.32 lakhs non-productive milch cattles and buffaloes under FIP and out of this, 1.14 lakh milch animals have been made productive. FIP is being monitored through a dedicated system on www.amul.org.in
Encouraged by the success of FIP, it has been decided to implement a more comprehensive Productivity Enhancement Programme from the year 2010-11 to improve the productivity of milch animals.
In collaboration with Institute of Rural Management, a year-long Certificate Programme in Dairy Management (CPDM) has been evolved. The basic objective of the programme is to create a pool of talented managers in order to meet the future manpower requirement of the member unions. Till date, two CPDM programme have been conducted and 39 candidates have been trained for member unions and Mother Dairy, Gandhinagar.
INFORMATION TECHNOLOGY INTEGRATION
We are glad to inform that in order to stay technologically advanced, simplify business operations across the supply chain and strengthen the linkages between GCMMF and its member unions; your Federation is implementing a common Enterprise Resource Planning (ERP) solution across GCMMF and its member unions. The ERP solution is expected to bring the entire supply chain on a single common platform and improve efficiency.
As a first step, your Federation has set up a centralized state-of-the-art data center for its entire IT operations at Anand. We have further advanced our Information Technology solutions by integrating Milk Marketing Depots and Milk Plants on a common communication backbone to strengthen and automate the Milk marketing operations. We have also extended customized ERP solution to all our warehouses for improve the distribution process.
ACKNOWLEDGEMENTS
Before closing, I would like to thank all those who have helped to make our Federation's operations successful.
We are grateful to the Government of India for the immense support received on numerous occasions. We are also thankful to the Government of Gujarat for all the help and cooperation, extended to our organisation.
National Cooperative Dairy Federation of India had been providing us with invaluable support in coordination with other agencies and organisations. National Dairy Development Board had played a role in our growth and development. I am very grateful to them.
Institute of Rural Management, Anand, as always, has contributed to the perspective building and professionalization of the management of the cooperative sector. We express deep gratitude for its support.
We are indebted to Vidya Dairy for having organised training programmes on dairy technology for our employees. We are also grateful to SMC College of Dairy Science, Anand and National Dairy Research Institute, Karnal for strengthening the dairy cooperative sector, by providing technically skilled manpower. We express our sincere thanks to the College of Veterinary Science and Animal Husbandry, Anand.
Our advertising agencies, bankers, insurers, management consultants, suppliers and transport contractors have been of great help to us in managing our growth and are our partners in success. We acknowledge their contributions and commit ourselves to continue and strengthen this fruitful alliance in all times to come. The Indian Railways has played a crucial role in the growth of our dairy cooperatives since inception. We thank them for their continuous support.
We depend on the efficiency of our WC&F agents, distributors, retailers and most important of all, the patronage of our consumers, who have come to regard our brands as synonymous with quality and value. While thanking them for their support, we assure them that we shall strive endlessly to delight them.
Our Member Unions are our strength. We thank them for their guidance, support and cooperation without which we would not exist.
Lastly, we thank the officers and staff of our Federation for their continued perseverance, loyalty and unflinching efforts devoted to
our cause.
Thank you.
For and on behalf of the Board of Directors
P G Bhatol
Chairman