Amul Franchise Business Opportunity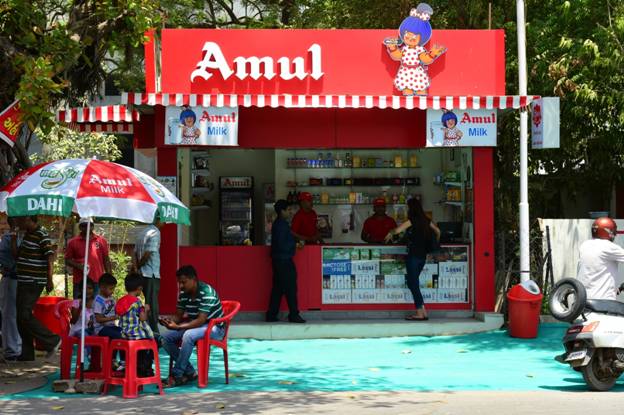 Amul Parlour:
Amul Parlours are exclusive Amul outlets which stores and sells entire range of Amul products. The outlets are spread over 100 to 300 Sq Ft in markets, premier educational institutes, hospitals, railway stations, bus stations, municipal corporation gardens etc. where there are high footfalls.
The franchisee will have a prebuilt shop / space in a good location either owned or rented. The franchisee is expected to bear the entire cost (viz. interiors and equipment, excluding property cost) of setting up the store which is expected to be in the range of Rs. 1.50 lacs to Rs. 6.00 lacs depending upon the format.
Our wholesale dealers will supply stocks at the parlour and the franchisee will avail retail margin. Retail margins will vary from product to product. Franchisee need not pay any royalty or share any revenue with Amul.
Working capital requirement would be extra depending upon sales volume. Expected monthly sales turnover will vary from place to place depending on location of the parlour. It may be in the range of Rs. 5 lac to Rs 10 lac per month.
S.N.


Type of the format



Prebuilt Shop Reqd.      (In sqft)


Investment by the franchisee



Avg. Returns on MRP


1



Amul Preferred Outlet/Amul Railway Parlour/Amul Kiosk


100 - 150



Rs 2.00 lacs (approx).

Break up = Refundable Brand Security - Rs 25,000 / Renovation - Rs 100,000 (approx.) / Equipments - Rs 70,000 (approx.) plus incidental cost.

Pouch Milk – 2.5%, Milk Products - 10%, Ice Cream - 20%


2



Amul Ice-Cream Scooping Parlour


 >300



Rs 6.00 lacs (approx.) 

Break up = Non-Refundable  Brand Security - Rs 50,000 Renovation - Rs 4,00,000 (approx.)  Equipments - Rs 1,50,000 (approx.) plus incidental cost.

All Visicoolers and Deep Freezers should be Amul Branded to avail equipment purchase support  amount.

About 50% on recipe based ice cream scoops / sundaes / floats / shakes / baked pizzas / sandwiches / cheese slice burger / garlic bread / hot chocolate drink (Amul Pro).


For pre-packed ice creams the margin would be 20% approx.


These ice cream parlours will also sell other Amul products where the margins will be to the tune of 10%.



Anyone with a very small capital base and good business acumen can become our franchisee. It requires very little investment and working capital.
We also provide additional retail margins, exclusive consumer offers, store inauguration supports, equipment purchase supports, free brand signage etc.
All recurring expenses such as employee cost, electricity charges, shop rentals etc. would be borne by the franchisee out of the gross retail margins earned.
For Inquiries regarding Amul Parlor/Franchise please email to retail@amul.coop or you can call on 02268526666