Emotional Problems in Infancy and Childhood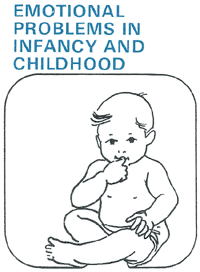 AS THE child grows physically, his mental development has to keep pace. Just as there are problems related to his physical health, there are problems cropping up which are connected with the child's emotional growth and development. Such problems are, to state a few-feeding problems, temper tantrums, nail biting, thumb sucking, masturbation, telling lies, day-dreaming, scholastic backwardness, bed-wetting, excessive shyness etc.
Parents, who think that their child is too young to have emotional problems, have a lot to learn. Never underestimate your baby. Most babies are fairly intelligent and quickly acquire the skill of controlling their parents. This is done often by a show of temper (temper tantrums) or refusal to take feeds or solid food. A parent who begins to give in to a child at an early age will progressively find greater difficulty in managing and disciplining the child. Every child needs external control. If he does not get it from his parents he feels frustrated. When a child throws temper tantrums the best possible management is by gentle yet firm handling without showing that you are upset of angry. When the child realises that he cannot get his way he will gradually come around.
Food fads are a common problem with many children. Try and give them enough variety and do not force food down their throats. Occasionally when a baby refuses the bottle, the parents persist in offering the bottle, or spoon-feed the child by force. Thus many feeding problems start with an unpleasant contest of wills. Adults often miss a meal when they are not feeling well. Why can't we allow a baby the same privilege?
Thumb-sucking, nail biting, lip-sucking and bed-wetting are often met with in children. These problems need to be understood. Consult your doctor regarding them.
Sibling rivalry is another common problem. When a new baby arrives, the older child invariably gets jealous. He considers the new-born baby to be a threat to him and a rival for his parents' affection. His parents must understand that the older child is under and emotional strain. They must help him to accept the new arrival by involving him in its care. Children who feel insecure often show open hostility towards the new baby. Or they may conceal it, in which case the parents are unaware of the emotional tussle and will invariably say. "No, doctor, there is no problem at all. Mohan loves his little brother very much" These parents are then worried when Mohan becomes unmanageable, refuses his food, prefers to go back to bottlefeeds, pulls baby's hair when no one is looking, or takes a longer time to get over minor illnesses.
All children of either sex will indulge in sex play and masturbation some time during their childhood and adolescence.
Parents must not get unduly worried about this. This is normal, nor harmful when not indulged in excess.
Whenever emotional problems are too many the child will not do well. He cannot adjust to his home or his school. He may be scholastically backward. Such a child is often called a "Problem Child". The real approach to such a child should be kindness and desire to help and this can be achieved when we consider him not as a problem child but as "a child with a problem."
A previously pleasant child may suddenly become peevish, irritable and naughty. Such a child may be going down with an infection or is not well.